2021 Market View & Forecast

As we start the Second Quarter of 2021, here is our review and forecast for the remainder of the year.

Active Inventory
Inventory is much lower than anticipated and the usual Spring "bump" is late arriving. We expect inventory to remain historically low, increasing slightly later in the Spring before leveling off in late Summer and falling toward the end-of-the-year.

Demand
Demand, driven by low interest rates remained strong. Even though interest rates have increased slightly, we expect buyer demand to continue and only be dampened by the lack of inventory.

Home Values
As expected, low inventory and good demand drove prices up by over 10% from this time last year. We expect home value gains to continue but at a slower rate due to rising interest rates.

Closed Sales
Year-to-date sales are slightly higher than the first quarter of 2020. We expect sales to maintain momentum through the first half of 2021 before the usual Autumn and Winter slow down.

Luxury Market
The luxury market saw a surge through the 1st quarter with market times half of that of the previous year. We anticipate steady inventory, days on market and above average sales of luxury homes.

Interest Rates
As anticipated, mortgage rates remained at historical lows throughout the year, finishing the 1st quarter above 3%. We expect interest rates to fluctuate slightly in 2021 and remain in the 3.0% - 3.8% range.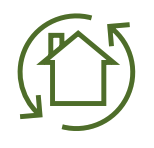 Housing Cycle
We expect a more normal housing cycle with sales activity to hit its peak in late Spring, leveling off in the Summer before falling toward the end-of-the-year.